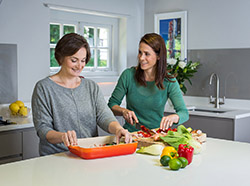 As well as making food for your children from scratch and baking biscuits and cakes, it's nice to make life a bit easier every now and again by buying off the shelf. There is a vast array of allergen-free products in supermarkets and grocery stores and the choice is growing all the time.
Our directory is not an extensive or exhaustive list but, through trial and error, we've come up with this range of products from the 'free-from' aisle that our kids and their friends particularly like and the products we use when baking. We have included link to either the brand or to a store where you can find out more information.
Where to buy
We imagine that you, like us, will do a lot of your shopping at a supermarket. All the big British supermarkets – Tesco, Asda, Sainsbury's, Morrisons, Co-Op and Waitrose do their own ranges of free-from cakes, biscuits, bread and snacks. As well as supermarkets many health food shops have good ranges for allergy sufferers so they're often worth checking out as well. Holland & Barrett has an excellent range of free from products and they allow you to order online and pick up from your local store the next day. Goodness Direct also has an excellent range with lots of choice. Wholefoods and Planet Organic are also worth checking out as well as buying directly from small manufacturers.
Labelling
The products listed below are not generally free from all allergens, so as always, you need to check the labels carefully to make sure they are appropriate for you or your child. Please note companies change ingredients and manufacturing methods frequently. We have highlighted allergens we are aware of but as things continually change, please always check the labels of products you buy very carefully every time you buy.
All pre-packaged products in the UK must include an ingredient list and any of the EU's top 14 allergens (dairy, egg, peanuts, tree nuts, soya, gluten, fish, sesame, crustaceans, molluscs, lupin, sulphites, mustard, celery) must be highlighted within the list. They tend to be highlighted in bold although they could also be underlined or highlighted in a different colour or larger font. They need to stand out clearly in an ingredient list.
Allergy statements
Many products will carry warnings such as 'may contain traces of nuts/dairy/ egg/soya/sesame' or 'made in a factory which handles nuts'. These warnings suggest there is a risk of contamination. This means that even if you or your child has eaten these products before with no ill effects, there is no guarantee that the product will not be contaminated in the future.
It is worth noting that these warnings are completely voluntary and there is no obligation for a manufacturer to carry one even if the risk of cross contamination is high. So it's worth bearing in mind that the absence of a 'may contain' statement doesn't automatically make a product less likely to have been contaminated than a product that does carry one. You need to discuss with your or your child's doctor whether or not to consume products which carry these warnings. We usually call the manufacturer's customer care line to find out more information and ask questions then you can determine how great or small the risk is.
REMEMBER ALWAYS CHECK LABELS OF PRODUCTS EVERY TIME YOU BUY. IT IS THE SOLE RESPONSIBILITY OF THE READER TO DETERMINE WHICH FOODS ARE APPROPRIATE AND SAFE FOR HIS OR HER FAMILY TO CONSUME.
Breadcrumbs
You can of course make your own breadcrumbs but sometimes it is just quick and easy to have a packet to hand. Remember to check labels carefully for allergens.

Flour and Baking Powders
We think the best gluten-free flour is made from a blend of gluten free grains. We use Dove's Farm in all our recipes and their blend includes rice, potato, tapioca, maize and buckwheat flours. If you wish you can buy rice flour, buckwheat flour etc. separately to use on their own or to experiment and make your own blends. Remember always to check labels carefully, and remember that some baking powders are not always gluten free.

Pasta and Gnocchi
Just because you are on a gluten-free diet doesn't mean you have to miss out on pasta. There are so many choices out there, with lots different shapes and styles. Here are our favourites.
Gnocchi is also a really easy lunch or supper dish to rustle up and if you don't have time to make it, buying it is much easier. A lot of gnocchi in supermarkets contains gluten, but the best one we have found that is gluten free is listed below.
Remember to check labels carefully for allergens, often gluten-free pasta can contain lupin and/or egg.

Other brands of pasta worth trying out are Orgran, Amisa, Heinz and also the supermarkets' own brand free-from pasta are also very good.
Sauces
Many ordinary stir-in sauces and condiments such as ketchup are already free from most allergens and you won't always need to look in the 'free-from' aisle for these, however still check the labels carefully. Often sauces contain gluten, nuts and dairy products and many condiments contain egg and gluten.
Spreads
These are really useful for baking and also for spreading on toast. There are quite a few good brands available but always remember to check for allergens, some brands of olive oil and sunflower spreads still contain dairy products.
Stock Cubes and Gravy
We tend to make our own stock in batches and freeze it but sometimes time is short and it is handy to have stock in your pantry. We prefer liquid stocks that you can buy in many supermarkets as they have a better flavour and don't tend to have added salt. However there is still a place for stock cubes in our pantries. Just check carefully for allergens they frequently contain celery, egg and gluten. We generally prefer to make our own gravy but occasionally it is nice to save time and it's good to know there are allergen-free brands available.

Bread
We have spent hours with a bread maker testing different recipes that could be easily made at home, free from all allergens, and it has been interesting. The results have ranged from pretty awful to passable. Overall we feel that if your child has a multiple food allergy (including wheat/gluten and egg), you are much better off buying ready-made free-from bread.
The brands below have much larger ranges than just the products we've listed. Waitrose, Tesco, Asda, Morrison's, Sainsbury's, Co-Op and M&S all do their own ranges of bread, bread rolls, pitta bread, pizza bases, crumpets, scones, pancakes and other items that are free from wheat/gluten, but the majority contain egg and some also contain dairy so check the labels carefully. It's also worth keeping an eye on salt levels.
Here is a list of free-from breads that our kids and their friends like:
Breakfast Cereal
There is a pretty good range of free from cereal in supermarkets. Do be careful to check labels for allergens as sometimes cereal can contain nuts, dairy and gluten. Some are packaged for kids and not unsurprisingly these are the brands our kids prefer.

Chips and Potato Waffles
Even the humble chip can contain allergens, often there is a coating of flour to make them crispy, so do check labels very carefully.

Chocolate and Confectionery
We use chocolate both for cooking and eating. It is a complex area for allergy sufferers but according to our research you have several options when buying free-from chocolate. You will need to check labels extremely carefully as they often contain nuts, soya and other allergens. Also check allergy statements carefully as chocolate is often made in factories that handle multiple allergens and some brands have stricter processes that others. Sweets are generally suitable for allergy sufferers (although some do contain allergens so, as always, check labels).
Crackers
Great for packed lunchboxes and snacking, there are lots of free from crackers in supermarkets. Always check labels carefully for allergens as some can contain allergens such as sesame, nuts and gluten.
Fish Fingers
Clearly fish is an allergen but if you are not allergic it is great to be able to serve fish fingers as all kids seem to love them. Be aware of battered fish as it will contain dairy, egg and flour but even with gluten-free bread crumbed fish always check labels carefully for other allergens such as egg.
Fortified Drinks
If you are on a dairy-free diet you may wish to try some alternative milks and there is an ever increasing range. Do check labels carefully as some are made with nuts, oats and soya. Also watch out as some are not fortified with calcium and some have added sugar. Most tend to be packaged with adults in mind, but we particularly like Rebel Kitchens chocolate and banana 'mylks' designed for kids.

Ice 'cream'
There is a growing range of dairy-free ice cream. Sorbets are also a good option but be careful sometimes they can contain egg and traces of nuts so, as always, do check labels. Most ice lollies are also OK but occasionally contain odd ingredients like traces of milk. Although not sold as 'ice cream' we also like to pop Innocent Fruit Tubes in the freezer.
Ice 'Cream' Cornets
Sometimes kids don't want to eat their ice-cream out of a tub, they want the crunch of a cornet. Although they are more expensive than ordinary cones, we use them occasionally. Remember to check all labels carefully for allergens.
Puddings and 'Yoghurts'
There is an increasing selection of free-from puddings and 'yoghurts' available. Be very careful checking labels for allergens, particularly dairy and soya.

Sausages
Less expensive sausages tend to have a lot of fillers such as rusk (breadcrumbs made from wheat) to pad them out. Look for the sausages with the higher meat content and higher standards of animal welfare and you will usually find that wheat / gluten is not on the list of ingredients anyway. Do check labels carefully as sausages can contain gluten, egg and sometimes small amounts of dairy products.
Snacks and Biscuits
There is a huge variety of snacks in supermarkets and you won't always need to browse the 'free from' for favourites and new ideas. A lot of snacks such as dried fruit, plain flavoured crisps are often suitable and located around supermarkets. A lot of biscuits, even if 'free from' will contain dairy, so if you are looking for biscuits that are free from multiple allergens don't worry there are still lots of options for you to choose from and we have listed our favourites, As always check very carefully for allergens on the labels as often bisucuits and snacks can contain a wide range of allergens.
Gluten-free favourites that contain dairy include:
Easter
More coming soon...
Birthdays
Coming soon...
Halloween
We favour individually wrapped sweets and treats to help avoid any cross contamination with other allergens that are often found at parties and offered for 'trick or treat'. It is also good to have to hand non-food items to give for trick or treat as well. Always check labels very carefully for allergens.
Back to top
Christmas
Typically most of a traditional Christmas dinner such as the roast turkey, potatoes and vegetables are allergen-free but there are lots of little extras that make Christmas magical, especially for children, and there is no need to miss out. Allergen-free advent calendars, chocolate coins and Christmas puddings to name a few, are all available. Remember to check labels carefully for all allergens.
Advent Calendars

Chocolate Santa

Kinnerton Santa contains soya lecithin
Other confectionary

Christmas puddings

Mincemeat and Mince pies

Chocolate coins

Other helpful ingredients