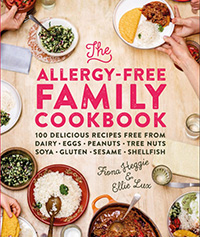 We are very excited about our first book, The Allergy-Free Family Cookbook, published by Orion. It contains a huge amount of advice and tips as well as a collection of over 100 recipes that are delicious, healthy, quick and easy to cook and they can be enjoyed by your whole family. They just happen to all be free of eight common allergens.
We recognise that most children won't be allergic to all eight and will, more likely, be allergic to different combinations. We've therefore explained how you can add in ingredients to which your child is not allergic – there's no point eliminating foods unnecessarily when your child's diet is already restricted.
The truth is that there is plenty of choice using ordinary ingredients readily found at supermarkets and we hope our book will make meal times easy.
Read more about The Allergy-Family Free Allergy Cookbook
Our second book, to be published by Orion in 2016, is The Allergy Free Baby and Toddler Cookbook. Again this book contains plenty of reliable tips and advice for parents weaning a baby with a food allergy and a collection of baby food recipes that are delicious, full of taste and flavour and just happen to be free of the 14 most common allergens.
All the recipes in this book are:
dairy-free
egg-free
peanut-free
treenut-free
soya-free
gluten-free
sesame-free
fish-free
shellfish-free
celery-free
mustard-free
sulphite-free
lupin-free
You can purchase The Allergy-Free Family Cookbook from the following online and high street retailers:
You can pre-order The Allergy-Free Baby and Toddler Cookbook from the following online and high street retailers: